In the last week of August 2016 Medical Checks for Children (MCC), together with a local FTK team had the annual Medical Camp. The team checked and treated free of cost 714 children of Mikocheni and Chemchem. The medical checks were performed in six days in four locations: Mikocheni Ndogo, Mikocheni Kubwa (including Maasaini), Kirungu and Majengo-Samanga (Chemchem village). During the free medical checks, the children were checked following the MCC carrousel: Registration of the child, Measuring height and weight, Blood test (hemoglobin), Urine test and /or malaria test when necessary, Physical examination by a medical doctor, dispensing vitamins and minerals, HIV/AIDS counseling and education on tooth brushing and nutrition (a tooth brush and soap was given to each child).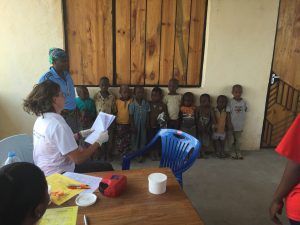 At each station, and especially at the physical examination and pharmacy station, education was given to the children and their care takers on good nutrition and hygiene. The MCC team paid special attention to the prevalence, treatment and prevention of anemia, growth abnormalities, worm infections and HIV/ Aids. In addition to the information given to the parents during the medical camp, a special training was given to the Community Health Workers. HIV counseling was given to all medical caretakers (voluntary), but unfortunately no HIV tests were available at the time of the medical camp. On medical indication, a malaria test and urine test could be performed on the spot.
Special attention was paid to the presence of caretakers during the medical camp at the announcement of the medical camp and at registration. Almost all children brought a caretaker. We are very pleased with this high attendance of caretakers, as an important part of the medical camp is in the transfer and exchange of medical and healthcare information. We know that the presence of caretakers will make the medical camp more sustainable. Therefore, we stress that in the coming years equal attention should be paid to the presence of the children's caretakers.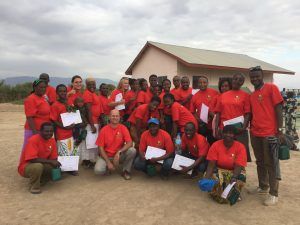 We referred 23 children to medical specialists in TPC Hospital for further diagnoses and / or treatment, e.g. for the suspected HIV, pathological heart murmur, severe anemia treatment, phimosis, strabismus or malaria treatment. Furthermore, 19 children were referred to and seen by CCBRT, part of the children were already known by CCBRT. Furthermore TPC hospital was present for 2 days doing Cervical cancer screening, they screened 20 ladies.
This year we included Tanzanian Medical Doctors to the team. Also our old friend Dr. Harry Mwerinde was the medical officer in charge.